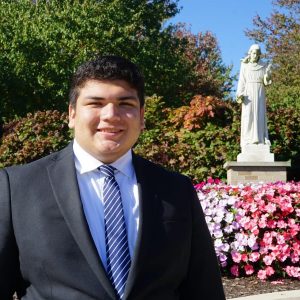 Hi everyone! My name is James Duarte. I'm a sophomore Senator majoring in philosophy and minoring in political science. My goal is to graduate from Franciscan with my Bachelor's degree, and God-willing enter law school.
I am from Austin, Texas and y'all can definitely bet that I have pride in my state (although admittedly mostly for the food). My hobbies are watching movies (to which I say the LOTR is at the top of my list) playing games, hanging out with my friends, and of course engaging in deep philosophical and theological conversation.
Although I may come across as quiet or maybe even shy at first, I actually enjoy meeting new people and making new friends. I'm glad to be blessed by Our Lord with the opportunity to serve and represent the student body, and I only ask for any and all of your prayers. Go Barons!
Email: jduarte001@student.Franciscan.edu