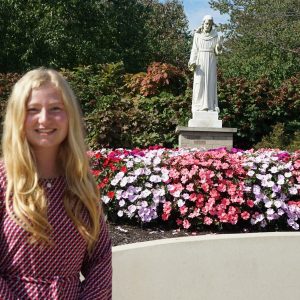 Hello! My name is Makena Wisniewski. I am a freshman Senator majoring in history and literature and minoring in Latin and philosophy. After graduating, I dream of becoming a high school teacher!
I am from the one and only Wisconsin (go Packers). I love a good book as much as I do a good war movie. Oh, and tea! Lots of tea! I also love playing tennis and have cherished my time on the FUS tennis team.
I am incredibly blessed not only to be at Franciscan, but also to serve in Student Government. I love meeting new people so please, if you ever see me around, say hi! And if you ever need help with anything, let me know. I am here to serve you!
Email: mwisniewski001@student.franciscan.edu