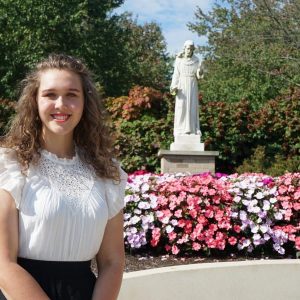 Mary Catherine Prostojesky
Hello!
My name is Mary Catherine Prostejovsky and I'm from Loretto, PA. I'm a junior, majoring in Elementary and Special Education. When I am not studying, or teaching a room full of 2nd or 5th graders,  I can usually be found reading, hiking, baking, skiing, traveling, playing games, watching movies, drinking tea or coffee, driving backroads listening to music, and running to DQ with my roommates. Back home in PA, I have a sister, two brothers, and two dogs, Dante and Hobbes.
I came to Franciscan because I love our mission and wanted to live, study, and grow with people who are after the Lord's heart. I ran for FUSG because I've been blessed by the people on this campus and I wanted to give back. I am honored to serve as a member of FUSG and want to hear your ideas and vision for our beautiful campus.  Please feel free to email me at: mprostejovsky001@student.franciscan.edu. If you see me on campus please say "Hi!"; I love getting to know new people. God bless!
Email: mcprostejovsky@gmail.com